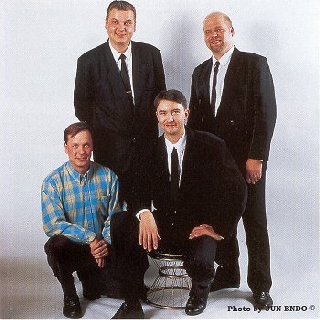 La cavalcade finlandaise
Ce groupe finlandais a été fondé en 1981. A l'origine on trouve Jari Aaltonen, rythmique, Markku Tuominen, basse et Jarmo Tuominen, batterie. Tous trois ont joué avec The Scavengers. Ils sont rejoints par Matti Luhtala, soliste. Ils ont tous débuté à l'âge de 14 ans, après des débuts avec The bat, puis Stingray ou autres orchestres locaux. Le départ du soliste des Scavengers Ari Ovaska a permis à Matti Luhtala de rejoindre le groupe.
Durant l'été de 1981, ils firent la connaissance de deux passionnés d'instrumental et de sa version finlandaise le Rautalanka : Olle Salo et Seppo Salminen. Ces derniers sont non seulement des collectionneurs mais aussi les fondateurs du label Rautalanka records.
Ils proposent à nos « scavengers », c'est à dire éboueurs, de changer de nom. Olle Salo leur suggère de s'appeler les mustangs, par référence au cheval et au morceau des Shadows. De plus nos deux passionnés initièrent les Mustangs aux joies de l'écho, leur permettant de développer un son distinctif.
Les mustangs répétèrent beaucoup notamment chez Seppo. Puis en 1982 ils enregistrèrent leur premier disque aux studios Brushane. Olle et Seppo les producteurs leur ont fait enregistrer Lonely river, Magic carpet, Ice flowers et evening wind. Le répertoire était à base de musique traditionnelle arrangé rautalanka et de quelques compositions comme Evening wind. Un deuxième ep suivit en 1982 pistoleros, suivi en 1983 de castle mood et en 1984 de Siberia.
Les Mustangs trouvèrent leur public et en 1983, ils sortirent leur premier album Mustang. Cet album eut du succès en Finlande et en Europe. En 1986 ils sortirent leur deuxième album Must twang. La télévision les fit passer à son programme où ils jouèrent cider stomp.
En 1988 les frères Tuominen s'éloignèrent et furent remplacés par Timo Leinonen à la batterie et Jari Vironen à la basse, un cinquième larron Sakari Korhonen compléta le groupe. Ils enregistrèrent Twistside story chez Bluebird, où Sakari et Jari Vironen chantent quelques chansons comme la version finlandaise de green back dollars. A cette époque le groupe devint les accompagnateurs d'un chanteur à succès Raijo Taipale. Avec son tube Virran rannalla ils vendirent 120 000 exemplaires soit un double disque de platine.
En 1992 Les Mustangs retournèrent à leurs racines instrumentales et enregistrèrent Going doing chez blue bird.. Puis en 1993 trois départs affectèrent le groupe S.Korhonen, T.Leinonen et M.Luhtala, remplacé par Janne Orava, et jarmo Peippo (batterie). Ils sortirent un mini cd pro vox en 1994. Il faut noter qu'Orava et Peippo étaient aussi membres d'un autre groupe the Regents. Ne pouvant se consacrer aux deux groupes, ils restèrent avec les Regents. En 1996 les Mustangs hibernèrent. Jari Altonen lui se consacrait à un groupe country the nightriders. Mais la nostalgie des mustangs allait être plus forte. Jarmo Tuominen proposait de relancer le groupe avec les membres fondateurs.
Durant cette longue chevauchée loin des mustangs (88-96), les frères Tuominen avaient joué et enregistré avec The Charades, The Creepers et the Shanons, groupes produits par Olle Salo et Seppo Salminen. Matti Luhtala avait joué avec the Scars et fait quelques enregistrement avec the Visitors (exotic entertainmment) chez Texicalli records.
Dans les années 1990 ils retinrent l'attention de Mr Tadashi Hino, producteur japonais, qui réédita leurs disques sur le marché japonais. Ils allèrent même faire une série de gala au japon fin 2000. cela a donné l'album live in Japan et dans la foulée ils ont débuté le siècle à Amsterdam où ils ont fait un autre album live. Enfin Mr Tadashi hino a eu la bonne idée de rééditer fin 2001 leurs premiers eps dans l'album rock me Fender.
Les mustangs sont un des groupes phare de la riche scène finlandaise, et sortent régulièrement des albums avec ce fameux son et style Mustang.
Jean BACHELERIE
Discographie
Going doing (KICP 2315 (Japon 1992))
Aquarius / Siboney / Green eyes-story of Tina / Man from nowhere / No moon at all / Original country sinister / Avant de mourir / Moonshot / Dernier train de l'espace / Blueing-blue Beguine / The wanderer-kulkuri / lady-Nainen / Atlantis / Pistoleros.

Twistside story (BlueBird BBCD2526 (1988))
Stoogie / Night run / Suuret Setelit / Swift Twist / Three guitars / Lips / Perestroika / Mikset Mua Huomaa / andalucia / St Michel / Dark Rose / Perfidia / Circus / 6.Aski / Diamonds / Painan Vain Pääni.

Perestroika Vavan (VCMP 1016 (Japon 1991))
Mandshurian beat / Telstar / Two guitars / Perfidia / Andalucia / Moscow nights / Pearlfisher / Magic carpet / Night run / Karelia / Blue Sunset / And I love her / Western Guitar / Pony Express / Dark Rose / Lonely River / Phantoma / Perestroika / Fjord / Siberia.

The Mustangs vs The New Violents (Triola TRCD 33 (1994))
Le dernier train de l'espace / Two guitars / Blueing / Siboney / Kulkuri / Coffee / The lost city/Geronimo / Peggy Sue / Stoogie / Lips / No Moon at All / Original Country sinister / Dark eyes Beat.

The Mustangs Pro Vox (Must beat 0003 (1994))
Kielletty Rakkaus / Geronimoa / Onni Jonka Annoin pois / Dark eyes Beat / Love me forever.

Matti Luhtala the Silver Strings Lonely Guitar (Rautalanka RRSCD 2002 (1999))
Lonely mountain ash / Romanoff and juliet / Maid of Novgorod / Memories of Carpat / Mr Salanov theme / Kasztany / Rowan tree of Ural / Underneath theRussian moon / Rmembering / Tiny Heart / Cheek Twist / Venezuela / (I love you for sentimental reasons.

Rautalanka Special Silver Strings with Matti Luhtala (Nippon Flamingo FM1006 (2000))
Flame / Romany violin / Deep as sea / Lonely mountain Ash / Light in Window / Downdrop and snowflower / My home fields / Sulamith / White flowers / Sorrow mood / Underneath Russian moon/Slow down / Rmembering / Love, suffer and forget / Rowan Tree of ural / Romanoff and Juliet / Maid of Novgorod / Memories of Carpat / Mr Salanov Theme / Evenings in Moscow.

The Mustangs Showcase 1981-1999 (Echo records ERCD 9901 (1999))
Kulkuri / Dark is the night / the lost city / Emiko / Dark Eyes stomp / Blue beguine / August Halfmoon / My Homefileds / Flame / geronimo / happy Ending / Twistman / Volga Boatmen / Liht in the window / Southern Slinger / Jack's Good / Andalucia / Siboney / Mandshurian Beat / Theme from Leningrad.

The Lost Album : Found and Revisited (Rarity Records C 192619)
The tale / Catcall / Trombi / tide / Southern Slinger / Twit / North Pole / Rattlesnake and clock / Boogie Tree/Japi-Beat / Dust the Magic Carpet / More Candy / emiko / 13th Ride / Fullmoon Lullaby / Trombi / deep as sea / Dewdrop and snowflower / Beats of Mindshuria / man From Nowhere / Cruel Sea.

The Mustangs live in Japan Rautalanka RRSCD (2000) Emma / Ginza Light / Man from Nowhere / Castle Mood / Pistoleros / Pony Express / Original country sinister / Andalucia / Bkueing / Ajomies / Emiko / Kon-Tiki / Ajoen Ajoen / Shindig / Manshurian Beat / Darke Eyes/ White Acacias / Siberia / Yozora No Hoshi / Blue Shawl / Nostalgia.

The Mustangs in Amsterdam (Rarity C192644)
Studio tracks : Ajoen, Ajoen / Carillo sunset / Cider Stomp / Botnia Railroad / Cruel Sea / Surfin Horse / Kasztany / Track-tor / Stoogie:Theme for young lovers / Jump / Wonderful Land.
Live tracks : Man from Nowhere / What a splendid Thing / Dance on / 13th Ride / Shindig / Perfidia / Ajoen, Ajoen / Kon-Tiki / Two Guitars / dark eyes Beat / Theme from leningrad / Apache.

Rock me Fender / the Mustangs in the 80's (Blues Interaction PCD 23184)
Lonely river / Magic carpet / Ice flowers / veningwind / Pistoleros / Gypsy woman Wanderer's dream / White accacias / Castle mood / Black rose / East Virginia / Theme from Leningrad / Siberia / Blue sunset / Karelia / Mandchurian beat / Moscow nights / Juoksuhauta twist / Old scars / Pipeline.