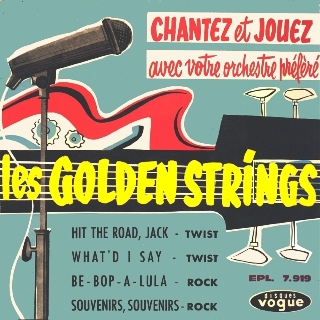 Des Golden Strings aux Golden Stars (1960-1963)
Johnny Hallyday est une bête de scène Il a donc toujours bénéficie d'un bon orchestre pour l'accompagner dans ses longs périples en France et dans les pays francophones. Le premier groupe qui l'accompagna sur scène fut les Golden Strings. Ils firent deux disques chez Vogue avec deux tubes de ray Charles : hit the road Jack et What D I say ainsi que le tube de Johnny : souvenirs souvenirs et be bop a lula , et Rebel rouser/ les joies du monde/Golden twist et tulsa twist en 1960.
Johnny quitta Vogue en 1960. Ils le suivirent chez Philipps où l'accompagnèrent dans wap dou wap/twistin USA/si tu me téléphones, danse le twist retiens la nuit et Samedi soir.
Les Golden Strings étaient Jean Pierre Martin , que l'on retrouvera aussi chez les Drivers, soliste, Claude Horn, guitare, Antonio Rubio, basse Louis Belloni, batterie, Marc Hemmler au piano et Jean Tosan au saxo.
En 1962 les Golden Strings deviennent les Golden Stars avec Claude Djaoui, soliste, Antonio Rubio à la basse, Louis Belloni à la batterie, Marc Hemmler à l'orgue et Jean Tosan au saxo. Ils passent notamment à l'Olympia avec Johnny. Philips sort deux disques des Golden stars en 1962 Rebel rouser/by the light of the silvery moon, last night :the gun was looded et Hully Gully firehouse, Mashed potatoes, Madison chez Johnny, et marc's madison.
Leurs origines étaient le Jazz, Marc Hemmler jouait au mars Club prés du Champs de Mars. Il y avait un trio Marseillais Belloni, Djaoui et Rubio. Marc Hemmler d'origine Suisse, a joué avec sylvie vartan après le départ de Johnny au service militaire, puis il accompagna Frank Alamo avant de faire un de la varité avec Pia Colombo et Mick Michell. Il reviendra au Jazz dans l'orchestre de Stéphane Grappelli pendant une vingtaine d'années.
Fin 1963 ils vont devenir Joey & the Showmen.
Jean BACHELERIE
Discographie (60)
Les Golden Stars
(Pas de titre) (Philips EP 432 587)
By the light of the silvery moon / The gun was loaded / Last night.
(Pas de titre) (Philips EP 432 800)
Marc's madison / Madison chez Johnny / Mashed potatoes / Hully Gully firehouse.
Les GOLDEN STRINGS
(Pas de titre) (Vogue EPL 7919)
Hit the road Jack / What'd I say / Be-Bop-A-Lula / Souvenirs souvenirs.
(Pas de titre) (Vogue EPL 7922)
Golden twist / Tulsa Twist / Rebel rouser / Les joies du monde.
Discographie (CD)
Olympia 63 (Pas de référence)
Rebel Rouser / By the Light of the Silvery Moon / Last Night / The Gun was Loaded / Hully Gully Firehouse / Mashed Potatoes / Madison chez Johnny / Marc's Madison / Rebel Rouser.
Les orchestres de Johnny Hallyday (Universal Twistin the Rock 586 021)