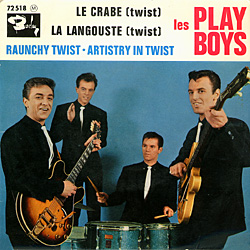 Du Two I's à Londres à l'Olympia de Paris.
The Playboys were the R & R band that brought a new sound and an aggressive rock style in session as well as on stage. They backed a wild Rock and Roll showman Vince Taylor. As they were good and well trained musicians they also cut some instrumental records before starting a solo career without Vince Taylor in 1963.
The Playboys line up in 1961 as they came with Vince Taylor was: Johnny Vance, bass, Alan Le Claire (Hamilton) on piano, Bobbie Clarke on drums and Bob Steel on lead. Bob was soon replaced by Tony Harvey, coming from the Gladiators.
Tony was born in 1940 in London, the only boy in a family of three children. His parents owned a fishmonger's shop and some fish and chips stores.
Tony's dreams were to become a doctor, but live and his musical abilities made him changed his mind. His father left soon the family for starting a new life in Australia. Tony was 14 years old, when he was obliged to look for a job to help his mother. He was a trainee in a jewellery; His apprenticeship was to last 5 years, but since he was gifted, clever and a hard worker, he made it in 3 years.
Tony had got a new hobby when he was 12 years. He liked music and began to learn playing guitar. He did it fast listening to skiffle bands like Lonnie Donnegan. He also had a good teacher, a session guy, called Joe Moraitti, who made some great recordings like Shakin all over and restless with Johnny Kidd, Brand new Cadillac the best track ever cut by Vince Taylor.
When he was 13 years old Tony joined a skiffle band, and played in wedding parties, or other families celebrations. When he was 17 years old he went to the famous teenage meeting point in London: the Two I's coffee bar. From 7 O clock p.m. till midnight he played there backing young singers who came for a try on stage in front of young experts and disc jockey looking for new blood. He had been selected with 4 other guitarists, with the support of Joe Moraitti.
At the two I's he got the chance to play Tony Sheridan, the future Rocker who made career in Germany, with Tex Makins, who would back Marty Wilde, with the future shadows' bass player jet Harris, with the future Billy Fury's drummer Red Reece. They very often played together backing Tommy Steele. This band of regular musician of this famous two I's were joined in 1958 by two young guys coming from the North of England: Bruce Welch and Hank Marvin. They were guests of the family Harvey, before finding their own place in London. As Tony told us the Two i's was the place who gave birth to a generation of British guitarists. We were all exchanging ideas, tricks, and there were such a competition spirit that it was very stimulating.
Tony Harvey was part of the first Vince Taylor's line up at the end 1957 when Vince arrived from California. He had left his lead guitar (Bob Frieberg) in the sunny California. Tony Sheridan stepped in the band, Tony Harvey is on rhythm, Brian licorice locking , on bass, and Tony Meehan on drums. Brian Bennett replaced soon Tony Meehan who joined Cliff Richard.
In 1959 there was a big shake up, Tony Sheridan, Brian Locking and Brian Bennett left to take their chance alone. Tex Makins came on lead, Bobbie Woodman Clarke on drums,and Clive Powell on piano, he was going to be famous under the name of Georgie Fame some years later.
Then in 1960 the line up was Tony Harvey on lead, Alan Le Claire on piano, Johnny Vance on bass and Bobbie Clarke on drums. In May 1961 Tony Harvey left for Nero & The Gladiators where he replaced Joe Moraitti. The line up was great: mike O Neal (nero) on piano, Rod Boots Slade on bass, Colin Green on lead and Tommy Brown on drums. They were close friends and rehearsed often together with Big Jim Sullivan, the Krewkats leader, and they had an interesting trainee Ritchie Blackmore.
Nero and the Gladiators used to play in the show rock across the channel on the ferryboats. In July 1961 the package went to Paris to play at the famous Olympia. The bill was very promising with Vince Eager backed by Bobbie Clark band, Wee Wee Willy Harris was there as well as Dave Sampson and the Hunters, and Duffy power was completing the program. Vince Taylor was travelling with the bands, thanks to his fellow Bobbie Clarke.
By chance Duffy Power was late for the rehearsal and Vince Taylor took his place. As Johnny Vance who backed him with Bobby recalled Vince made a fantastic show. In the audience was jean Fernandez an A & R man of the Barclay label. He came backstage he asked Vince to show up In Juan les Pins where a R & R contest was organised. The Band went back to England to make some gigs, when they were called to fly to Nizza and back Vince in Juan Les Pins. The Barclay label offered the flight tickets. There they won the contest and played in the famous Vieux Colombier club, where they happened to meet with the Airedales, a band of young black American making their military service in the Navy. They were based in Villefranche, where the American navy had facilities in the Riviera.
When September came all the guy went to Paris and were booked in the studios Hoche, owned by Barclay. In two sessions they cut twelve tracks. They were disappointed by the lack of quality of the equipment and the low level of the technicians know how.
Johnny Vance, born in 1940 in Bournemouth,came from a British family who liked and played music. His mother sang and played piano; she often took part to local contests. His father liked Jazz. His mother taught him piano. But the big turn when in 1955 when heard Skiffle music, and then Bill Haley. In 1958 he attended his first R n R show when Buddy Holly played in England, Johnny was a bit disappointed because Buddy did not sing the Rock classics. But he made up his mind he would play bass guitar. He bought a Hoffner and listened to jazz guitarists like Wes Montgomery. Then he started to play in the movie places during the break. Thus he met a drummer Johnny Watson and a guitarist Brian Marshall. They backed Reg Calvert from time to time. One day Reg announced them that a singer named Vince Taylor was arriving from the States. He was looking for musicians that are how they met Tony Sheridan at the Two I's and started to play with Vince.
The Playboys in 1961 cut an instrumental record for Barclay (terrible twits Persian market, Bush fire and moving and grooving'), which was released, in early 62. then in February, they also appeared in a movie called comment réussir en amour, where others bands like les Chaussettes Noires were also singing. They played Retiens la nuit , Samedi soir and farewell Mademoiselle. In March Barclay released their third EP with a cover of Raunchy, artistry in twist as well as le crabe and la langouste improvised during the session and attributed to their A & R man Leo Missir. In the summer 1962 they also recorded the famous scopitones at Misters Davis Boyer villa in the Riviera. They played Shazam. They often appeared in TV shows like Age Tendre whose disc Jockey was Albert Raisner, an harmonica player, composer and jazzman.
In February 1963 they were billed in Hamburg at the Star Club with Vince Taylor, unfortunately he showed one day late. The PlayBoys decided to stop playing with him and started a solo career. They cut some other records with Barclay one more EP as a singing band. They were invited to play in Beyrouth; they were a good stage act. The line up had changed Bobbie Clarke left to join Johnny Hallyday and was replaced By Eddy Sparrow, former Toppers ' drummer and Joe Fegan replaced Alan Le Claire who went back to England.
They were such good musicians that Bruno Coquatrix, the Olympia managing director hired them as the house band backing all the guest stars coming by at the Olympia. They made another recording contract with RCA with a new drummer ex Krewkats Don Hawkins, and cut a record in the Beatles style with Money, sweet and lovely and two songs in French.
But the success faded away and they disbanded in 1965, Tony joined Less Champions where he replaced Claude Ciari. Later he was backing Joe Dassin a big star in the late sixties and early seventies. Tony Harvey then retired from the music scene and passed away in February 1993.
Johnny Vance Went back to England with Dean Notton (former Fantômes lead guitar) and made a record with the famous producer Shel Talmy featuring T Bird and a Ray Charles track, which did not get any success.
Johnny Vance after a career in the musical edition and then in the casino management retired in the early nineties and is now leaving in London meeting regularly his friends Don Hawkins, Joe Fegan, Mike O Neal, Bobbie Clarke ….
Jean BACHELERIE
Discographie (60)
(Pas de titre) (Barclay EP 70 419)
Persian market / Bush fire / Movin & groovin' / The terrible twist.
(Pas de titre) (Barclay EP 70 433)
Retiens la nuit / Farewell Mam'zelle.
(Pas de titre) (Barclay EP 72 518)
Le crabe / La langouste / Raunchy twist / Artistry in twist.
Sounds Guitars : Les plus grands succès du Rock (Adria 655 036)
Rip it up / After dark / Nobody / House of Rising sun / It's not unusual / Nostalgy / Portland town.
Ces 4 disques n'ont pas étés réédités.
Discographie (CD)
La griffe du Rock (Magic Records 3930649)
Sur un march' persan / Bush fire / Movin' and groovin' / The terrible twist / Le crabe / La langouste / Raunchy twist / Artistry in twist / Samedi soir / Farewell mam'zelle / Retiens la nuit / Clank / Shazam / Quelle m"me / Money / Sweet and lovely / B'ni soit Dieu.