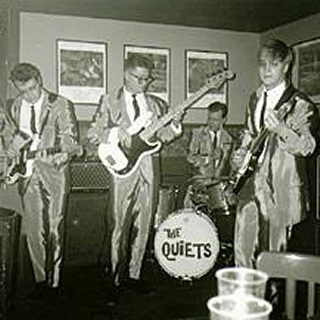 This Finnish band has been set up at the end the seventies. The line up is: Samm Saarva, lead guitar, Ari Sinivaara, bass, Timo Sinivaara, rhythm, Rudi Ryynänen, drums and Tuomo Grôhn, keyboards. The Quiets started as a quartet and moved to a quintet in 1984 with a keyboard player.
Their roots are the Shadows, The Spotnicks, The Jumping Jewels, as well as their countrymen: the Sounds , the Strangers (further info on the site) and the Avengers.
Their talent was recognised by Olle Salo in 1983, and they recorded their first 45 Ep the same year for the Rautalanka label owned by both Olle Salo and Seppo Salminen. Their first record featured Valley Riders, the Savage, Lonely man and Silvery moon.
As Sam Saarva likes to recall, they were named the Quiets after their first recording session, when they were so impressed and so shy , that only a word came out what a quiet band !
The quiets like most of the European today's band are not professional. For example Sam Saarva, the lead guitar is working in the Teboil company, a Finnish oil company.
Their biggest success was the album Sounds of the Quiets which has been selling more than 5000 copies, which for a million people country is pretty good.
It was their first Cd made of a compilation of their first recording including the first albums. They benefited for a strong promotion with TV spots.
The Quiets know the French instrumental scene fairly well, they like Les Fantômes, Les Four Dreamers, Les Guitares du Diable, Les Champions and Les Sunlights.
They presently work hard on their new album due at the beginning of 2001. It features a cover of Galaxy, one of the big French instrumental hit, penned by Leo Petit aka William stanray. Léo petit made a success of this track with his own band Les Guitares du Diable. It was also a a hit by Les Champions and Les Guitares.
Jean BACHELERIE
Discographie
My only love (*) (CD Century CECC 00713 (1995,Japon))
My Only love / Sabina / Morning of the Carnival / The savage / Utopia (+) / Silvery moon / Valley riders / Deep in the valley / Prairie / It's a man's world (+) / Mustang (+) / 500 Miles (+) / Remember me / Rosaria in Blue / Troika / Husky Team / Evenings in Moscow / Domino (+) / Shindig / Quiet country lane / Harbour nights / Night in Island / Guitar Twist / High Heels / Saturday night at the duckpond.
(*) Album composé de leurs 2 premiers LP : The Quiets et 16 guitar instrumentals ainsi que 5 inédits (+).

More (EUROS SINCD 1050 (1989))
Twist d'amore / From Russia with love / Mr Moto / Desert rider / Ginchy / Golden Earrings / Casino / Charade / Strangers in the Night / Petite fleur / Rumble / Smile of Paris / Theme from Persuaders / Out of this World / In a Persian market / The Mexican / Evening twist / Smoke signals / Misty River / Exodus / Little Midinett / Una aventura mas / Perfidia / Karelia / The restless Gun / Moonshot.

Travellin with Euros (SINCD1061 (1990))
Boulevard of Memories / Green leaves of summer / Blue bird / Tovarich / Moosafari / The Breeze and I / La Playa / Maroc 7 / Husky Team / Django / Dream of Autumn / Dakota / Moonlight walk / Lunik.

La Strada (Fazer Music 300162 (1994))
Thunderball / La Strada / Jack's Good / Cold love / The mind reader / All the stars in the sky / Die Gitarre spielt auf / Come prima / Goldfinger / Magic Carpet / Lonely blows the wind / Temptation / Visa to the Stars / Flowers of spring / Nature boy / Polaris.